Aftermarket Parts and Your Warranty
FCP Solutions Promise to You!
We only supply the best in industry aftermarket parts that are manufactured to OE spec and above and covered by the most comprehensive industry warranties from their respective manufacturers. We will never sacrifice quality for price, we research the industry to provide the best performing parts for the environment we operate in.
Using Non Genuine Parts Will Not Void Your Standard Manufacturer Warranty!
It is your unequivocal right to use non genuine parts when a vehicle or machine is under the standard warranty. Put simply the Australian Competition and Consumer Commision states that warranty will not be void by the use of non genuine parts. The full report from the Australian Automotive Aftermarket Association in response to the ACCC report can be read by CLICKING HERE
But My dealer Said That My Warranty Will Be Void If I Use Non Genuine Parts?
There are many threats made by genuine dealers that a warranty will be void if you use non genuine parts. The use of aftermarket parts will not void your warranty and is factually untrue and against consumer law in Australia. You could ask for this in writing which they will never do as it is illegal and the individual dealer could face very harsh penalties for doing so. The ACCC said in 2017 that it has been particularly concerned about the new car industry and their level of non compliance "Complaints to the ACCC about new car manufacturers have risen to more than 10,000 over the past two years. Our draft report highlights the urgent need to address widespread issues in the industry," ACCC Chairman Rod Sims said, MORE CAN BE READ HERE
When using non genuine parts it is the warranty provided by the manufacturer of that particular part that takes over the place of the genuine warranty. For eg. if you buy a non genuine filter and it fails destroying the engine in the process, the manufacturer of that filter would then be responsible to repair or replace any damage caused under their warranty of that individual part. Bearing this in mind when using non genuine parts it is important to choose high quality parts and the correct part for the application from well known manufacturers, who implicitly state they warrant that part for the intended application. The aftermarket part manufacturer should state they manufacturer to OE spec and above such as Baldwin and Sakura filters do. If you use parts that don't meet the relevant spec then it may come back to bite you.
What if I Signed a Dealer Extended Warranty?
If you signed a dealer extended warranty over and above the normal warranty period offered then you may be bound by those warranty terms to use genuine parts and servicing to maintain that warranty. It is your responsability to assess whether the extended warranty is providing you with value considering the over exhorbitant charges for genuine parts and servicing. you should be wary as the ACC have warned that "Some extended warranties contain restrictive terms and conditions, such as excluding certain parts, setting caps on claims or requiring you to use a nominated repairer." CLICK HERE TO READ MORE.
Why do Genuine Dealers Threaten Warranties Will Be Void?
Genuine dealers want to sell you over priced parts to make as much money as possible. Genuine parts often cost as much as 5 times their aftermarket counterparts and these aftermarket companies often make the genuine filter themselves, so you the consumer are many times more than you should for the same product because it has a badge painted on it. The genuine parts market is big business to the new equipment dealers and they will often heavily discount new cars, trucks and equipment so they can "make it back" on the parts over lifetime of that particular machine. After all the Australian Automotive Aftermarket Association report found that "Spare parts are subject to dramatic mark-ups that help fatten a dealer's or manufacturer's bottom line. Industry research obtained by Drive found that building a $21,000 hatch from parts bought at retail would cost $114,081 – more than five times its original cost". CLICK HERE TO READ MORE
But Aftermarket Parts Aren't As Good Quality as the Original Equipment (OE)?
Ask yourself this would you buy a car from a filter manufacturer? If the answer is no then why would you buy a filter from a car manufacturer. OE car and equipment manufactures are essentially engineering and assembly lines that assemble a car or a piece of equipment from many different parts. Parts such as filters, oil, brake pads, belts, spark plugs plus a host of other parts aren't made by genuine companies. They are made by specialist companies such as Baldwin, Sakura, Gates, Parker, Bosch, Bendix, Castrol etc who have manufacturing plants that specialise in the manufacture of those specific parts. These companies are known as original equipment suppliers (OES). For eg. Baldwin manufacture over 500,000 filters per day and has over 150 genuine customers and some of these include Caterpillar, Thermo King, JCB and aftermarket customers such as Fleetguard and Donaldson. Sakura have customers that include Toyota, Isuzu, Mitsubishi, Hino and aftermarket customers such as Donaldson and Fleetguard. These OES often make a line of aftermarket parts which the consumer has access to. In many cases a high quality aftermarket part will outperform a genuine part as they have to sell on quality and not threats. The engine coolant we supply RCP Platinum has an 8yr, 1.25 million km, 24,000hr service life which no genuine product can match.
CLICK HERE TO READ A DAMING REPORT FROM THE ACCC
How do I choose a good aftermarket part?
When buying aftermarket parts only buy from manufacturers that claim to be OE spec and above and preferably that have supply agreements with genuine companies. The parts themselves should have a logo and a part number. The aftermarket company owns the manufacturing plants so they have control over the quality control. Many cheap aftermarket brands get their products manufactured by a 3rd party so they don't directly manufacture the product they only market and sell it. The best aftermarket companies actually own their manufacturing plants to keep control over the products they manufacture. Filter companies Baldwin and Sakura own and operate their manufacturing plants.
But what about aftermarket brands?
There are many different aftermarket brands available and not all are made equal either. In saying that the major players worldwide are Baldwin, Sakura, Donaldson, Wix, Fleetguard, Mann & Hummel and some others. These brands also all use each other at one point or another to manufacturer parts that they need in their product range but cost there own company too much to manufacture. The below image is of 3 aftermarket brands Baldwin, Donaldson and Fleetguard and 1 genuine CAT. Everybody who owns a lot of CAT equipment says that CAT make the best filters, but the question is who makes CAT filters?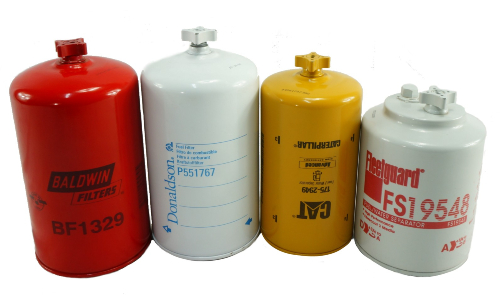 These filters all have one thing in common a metal drain. This metal drain is patent by Baldwin and there is only one place they all come from and that is the Baldwin factory. This is not to say that Baldwin make all of Fleetguard and Donladson nor do they make all CAT genuine filters (they do make a lot) but illustrates that if Donaldson, Fleetguard and CAT trust them enough to make filters with their name on them then they must make a good product. Conversely there are times when Baldwin buys filters from Donaldson and Fleetguard amongst some others. In summary there isn't one brand on the planet that makes 100% of their product offering in the filtration world. One point to note about the image is the use of the metal drain which we personally think is a better quality feature in the tough earthmoving market as it will stand up to a lot more punishment compared to the plastic drains being used on a lot of filters and from a quality stand point this is something we will promote over cost every time.