Air Filter Washing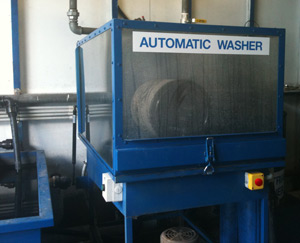 FCP Solutions pioneered air filter washing over 40 years ago and has kept abreast of air filter cleaning technology with the use of recycled water and a specially designed, energy-efficient oven. The process of Washing and Testing of Air Filter Elements (essentially recycling) is not new and is a tried and proven method of reducing operating costs that is both beneficial to the consumer and the environment.
Leading heavy duty filter manufacturers such as WIX, DONALDSON, BALDWIN and CATERPILLAR, recommend the washing and testing of air filter elements. Some filter manufacturers, even issue instructions on how to do it. While this practice may be recommended as a do-it-yourself thing, great care should be taken when handling filters with wet media as inexperience can easily cause damage. Of most importance is the fact that the average do-it-yourself person, or company, has no means of properly pressure testing a filter to detect any faults which, if present when the filter is installed back into an engine, may lead to that engine being damaged or completely dusted. Such recommendation is usually accompanied with the advice that only a PROFESSIONAL washing service be used that also offers a warranty on the finished product after it has been washed and tested. Air filter elements may be cleaned up to 6 times, provided they are pressure tested, a procedure which we complete twice during the washing process.
FCP Solutions is an environmentally friendly company which has been in the business of washing and testing air filter elements since 1990. Since that time we have recycled many thousands of elements that has saved industry many hundreds of thousands of dollars. We are a member of the Australasian Filter Servicer's Association with members from Cairns to Perth plus New Zealand. Strict standards, as set by the Association, regarding the washing and testing of filters must be maintained.
Contact us today and let us show you how to reduce air filter element costs by over 50% across your entire fleet.